Discussions between Paris and Cairo concerning a new order for Rafale aircraft had been underway for several months, Egypt having expressed its wish to " to double its Rafale fleet »Last February. According to documents obtained by the Disclose information site, these negotiations would have been successful, and a contract of almost € 4 billion for an order for 30 new Rafale aircraft would have been signed on April 26. After officialization of the order for 18 Rafale by Greece 3 months ago, this is therefore excellent news and a new success for the French aircraft, with one of its most important and oldest customers, Cairo having been the first country to acquire the Rafale in 2015, but also the Mirage 2000 20 years ago.
The French authorities, contacted by AFP, have not confirmed the information, but have not denied it either, adding that an announcement will soon be made in this area. The amount of the transaction is insured by a consortium of French banks including Crédit Agricole, BNP, Société Générale and CIC, for financing covering 85% of the amount of the contract. The contract schedule is not detailed, nor its overall envelope. Recall that Egypt had already wanted to acquire new Rafale in 2017, but the contract had encountered a veto from Donald Trump concerning a component used by the SCALP cruise missile that accompanied the order, while tensions between Cairo and Washington were at the top.
This contract has come a long way. Indeed, a few months ago, relations between France and Egypt were very deteriorated, following a statement by the French president concerning human rights during an official visit to Cairo, provoking the anger of President Al Sisi. This episode had led to the suspension of a large part of the negotiations between France and Egypt on the subject of arms contracts, Cairo then quickly returned to Rome to acquire FREMM frigates. and initiate discussions regarding the acquisition of Typhoon fighters. France's involvement in the Eastern Mediterranean in 2020 alongside Greece in the face of Turkish attacks, as well as in application of the embargo on deliveries of arms and materials to Libya, brought the French and Egyptian positions closer together, allowing the resumption of negotiations.
However, contact was not completely broken between the French defense industry and Egypt, since the country had ordered the modernization of its Rafales in a fairly discreet manner to bring them up to the F3R standard, capable of using the air-missile in particular. Meteor long-range air and carry the new generation designation TALIOS nacelle. However, it is not known whether the new Egyptian Rafales will be of this same standard, or whether they will be delivered directly to the standard F4, which will allow the French aircraft to acquire 5th generation type capabilities, such as data fusion.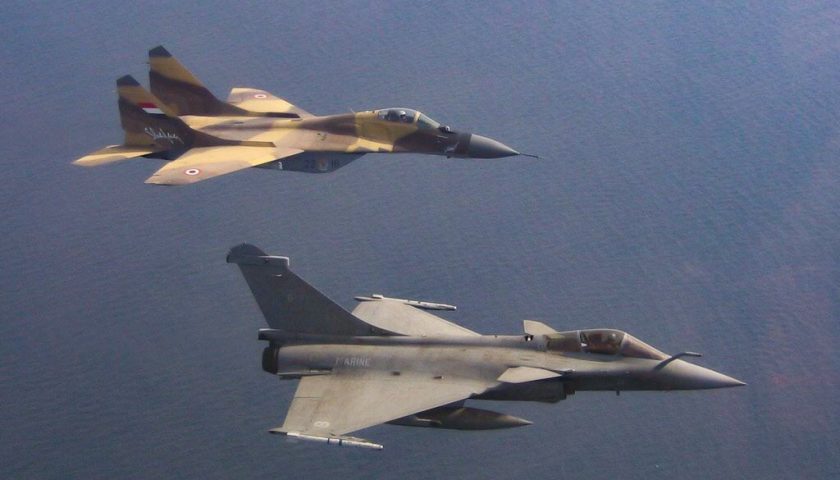 Egypt is investing in a forced march for the modernization of its armed forces. In particular, the country acquired 46 Mig-29s and 30 Su-35 from Russia in addition to the 24 Rafale previously ordered from France for its air forces, Gowind 2500 corvettes and FREMM frigates from France and Italy, as well as T-90 tanks near, again, near Russia. With this new order, the country will have a first-rate air force, with 30 Su-35, 44 Mig-29, 54 Rafale, 220 F16 and 19 mirage 2000, i.e. more than 350 combat aircraft, as many as the France and Italy together, with 8 E2C Hawkeye advanced aerial watch to control them.