Since entering service in 2008, the Canon Equipped with a Nexter Artillery System, or CAESAR, has met with significant operational and commercial success. Successfully employed by French gunners in Afghanistan, Iraq, Lebanon and Mali, and by its international users in Cambodia (Thailand) and Yemen (Saudi Arabia), the French system has demonstrated excellent operational qualities, combining high mobility at high reach (up to 40 km with ERFB shells, more than 50 km with added propulsion shells), as well as high accuracy even with unguided shells. These qualities were used by the French artillery in Iraq to carry out artillery raids, combining rapid movement in hostile areas, fire and an equally rapid withdrawal.

To date, the CAESAR has been chosen by 7 international customers for more than 260 units, including 3 NATO members (Czech republic, Denmark, Belgium), 2 in Asia (Thailand and Indonesia) and 2 in Africa/Middle East (Saudi Arabia and Morocco), making the artillery system the spearhead of Nexter group exports these last years. Note that France has also announced the delivery of a dozen systems taken from its own inventory to support the Ukrainian defense effort. The order book of the French industrial group specializing in land armaments will soon grow with a future order from Colombia for "at least 4 pieces" so as to constitute a complete battery, after General Carlos Moreno, second in command of the Colombian armed forces, traveled to France last week to negotiate budgetary and contractual questions.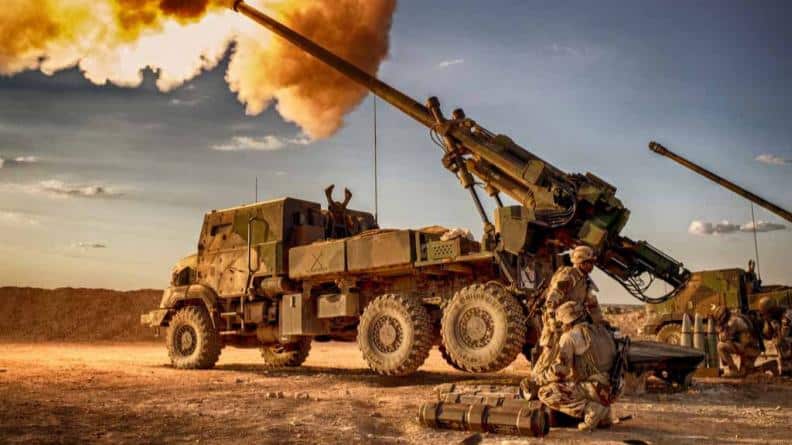 Even if the order may seem modest, it constitutes an important victory for Nexter, the CAESAR having imposed itself after fierce competition having pitted it against the Israeli Atmos system and the Turkish Yavus, two systems that have appeared in recent years and are based on the same innovative paradigms opened by CAESAR. It must be said that Nexter had long supported its offer before the Colombian authorities, having even conducted a trial and demonstration campaign in the country already in 2011, where the Turkish and Israeli systems were content with contractual promises. In addition, during General Moreno's visit to France, he was able to observe a training campaign for French gunners to fully appreciate the potential of his future system.

---
The rest of this article is for subscribers only
Full-access articles are available in the " Free Items". Subscribers have access to the full Analyses, OSINT and Synthesis articles. Articles in the Archives (more than 2 years old) are reserved for Premium subscribers.
From €6,50 per month – No time commitment.
---